Found it! The Highwayman. It had the guy from those Energizer battery commercials. OY!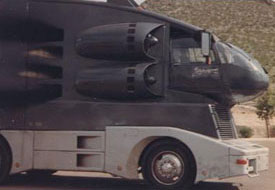 Then this guy actually repainted it
How can you resist a plot like this.
In the future, most crimes start or end on the road. A new breed of law enforcers, known as "Highwaymen", utilize fantastic helicopter-equipped, high-performance tractor-trailer rigs to deliver justice when other agencies fail.